Roisin Mc Grory (nee Harrigan) is from InishowenCo.Donegal. Growing up in Inishowen, she was exposed to the rich culture of music and in particular to the great fiddle playing of Dinny Mc Laughlin. With her brothers Paul Harrigan (piano accordion and uilleann pipes) and Damien Harrigan (fiddle) Roisin has performed at festivals and events throughout Ireland, Europe and America.
After qualifying from Epsom School of Art and Design, (England) Roisin returned to Inishowen where she was drawn back to her first love of music and teaching music in the area. Roisin is a co-funder of the Inishowen Traditional Music Project established in 1999. Influenced by the work of CairdeasnabhFidileiri, in Donegal, ITMP was set up to promote and preserve the music of Inishowen. The project holds annual events such as workshops, concerts, collaborations, exchange visits, recitals, talks and has produced two commercial recordings of Inishowen musicians Seamus Grant and Dinny Mc Laughlin. In September 2016 Roisin released her debut  album The Brae Road.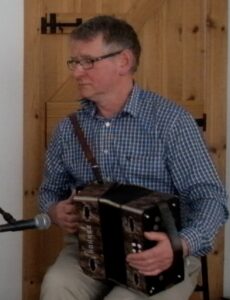 Mick Denieffe is from Kilkenny but has lives in Buncrana and has been an important influence and teacher of many young musicians in Donegal. Mick plays accordion and concertina and teaches both in classes and online over the past year. Mick was a close friend of Seamus Grant and played with him for ceilis, house parties, concerts and sessions.  He has published a collection of Seamus' tunes and has been a major contributor to the Seamus Grant website.

Patsy Toland lives in Clonmany and since moving back from Dublin over 5 years ago has been part of the Seamus Grant Weekend committee. He has played in many groups and toured Ireland as well as festivals in Italy, France,etc. He plays banjo, tenor guitar and mandolin and teams up with Reel Trad for local sessions and events.
Paul McClure comes from the parish of Desertegney, Inishowen, Co. Donegal. He moved to Galway City in 2009 where he now lives and teaches music. As well as teaching, Paul is a regular to the vibrant Galway music scene and has toured Ireland, the UK and Europe. He has recorded albums and guested with many bands and musicians spanning several genres, never straying too far from his first love of traditional Irish music. Paul learned his music from his mother Teresa McClure, first picking up an accordion at the of 4. Since then he has had much success with x3 All Ireland titles to his name on piano accordion and bodhrán.